LEADING CAR RENTAL BRANDS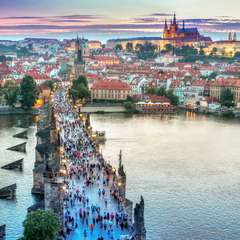 Castle Bridge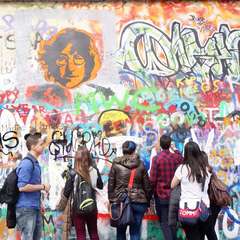 Lennon Wall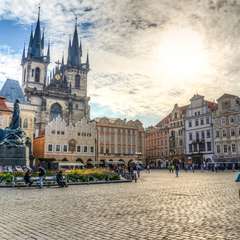 Old Town
Popular Rental Cars in Prague
Address: Prague - Downtown - Eliski Krasnohorske 9 A Contact For Customer Mandatory, Prague, 11000. To check for other local car rental hire depot locations in Prague, select search above.
Going off road or to some out of the way place? Why not have an adventure with a 4x4 or SUV. Here are some examples to compare prices:
BMW X3


5 4

5
Skoda Karoq


5 4

5
Skoda Kodiaq


5 6

5
Volvo XC90


5 6

5
BMW X6


5 3

5
BMW X5


5 6

5
Kia Sportage


5 4

5
Audi Q7


5 3

5
Are you driving with a large group? See our wide range of 7, 9 and 12-seat people carriers (MPV's) van's and minivans. Here are some examples to compare prices:
Opel Vivaro


8 3

4
Peugeot 5008


7 1

5
Volkswagen MultiVan


7 1

5
Mercedes Vito Traveliner


9 4

5
Renault Trafic


9 4

5
Ford Tourneo


7 2

5
Mercedes Viano


7 2

5
Small cars that are easy to park, economy size is ideal for driving in those busy city streets. Here are some examples to compare prices:
Skoda Fabia Estate


5 4

5
Volkswagen Polo


5 2

5
Opel Corsa


5 2

5
Skoda Fabia


5 2

5
Ford Fiesta


5 2

5
Seat Ibiza


5 2

5
Standard cars are comfortable and big – great for family trips and longer-distance travelling. Here are some examples to compare prices:
Volkswagen Passat


5 4

4
Skoda Superb Estate


5 5

5
Peugeot 508


5 4

4
Skoda Superb


5 3

4
Audi A4


5 4

4
Why not drive around your destination in comfort and luxury – in a luxury executive car. Here are some examples to compare prices and various models:
Mercedes S Class


5 4

4
Note: These are indicative examples only. For accurate car comparisons and prices, enter your dates into the search above.
Prague Driving Ideas Guide
Rival only to Paris, Prague is the most attractive and romantic city in Europe. The warm streetlamps and illuminated well preserved buildings reflect in the waters of the Vltava River which divides the city. Prague is often referred to as the City of a Hundred Spires as its Old Town consists of seemingly endless Baroque and Art Nouveau buildings and Gothic churches. Be sure not to miss a walk along the Charles Bridge and count the statues of 30 saints that guard the bridge. You might find yourself marveling at the Astronomical Clock. Due to the abundance of old world charm, mystery and beauty, Prague beckons old lovers to walk along its streets, and attracts new lovers to each other.
But the beauty of the country does not stop at Prague, just outside of the city you'll find 11 UNESCO sites, 6 nature reserves and around 250 castles, many of which are open to the public.
Prague to Kutna Hora:
1 hour 4 to Kutna Hora (83.7 km)
Kutna Hora is an old silver mining town that dates back to the 12th century. The medieval town center is one of the UNESCO sites mentioned earlier and consequently has been immaculately preserved. The many cobbled squares found in the town were originally the entrances to mines.
Don't miss St Barbora's Cathedral, which has been described as 'hovering above the horizon like a gothic spaceship'. The creepy Bone Church is found here, where the bones of the victims of the Great Plague and Hussite War, all 40,000 of them are used to decorate the interior. The certainty of death is overwhelming.
Prague to Kokorínsko Nature Reserve
1 hour 4 to Kokorínsko Nature Reserve (72.5 km)
Head north out of Prague for an hour and you'll find yourself in a primeval, unspoiled forest surrounded by towering sandstone rocks. Bring your backpack along and some comfortable shoes to make the most of the many trails. No need for a map, the well marked, and colour coded paths will lead you where you want to go. The green and blue trails will lead you to the virgin forest where you will pass a 1920's swimming pool along the way. Follow the yellow path and you'll end up in a country pub, lunch will consist of fried cheese and beer.
After all, what's a trip to a new city without a day trip out of it? You've chosen to travel to your destination in order to explore, why not explore all that the Czech Republic has to offer. If you feel that you would like to divide your stay between the romance of Prague and the wonders of the countryside, then head on over to Cheaperthanhotels and you'll find a list of affordable accommodation in Prague and the surrounds.
As seasoned travellers ourselves, we know firsthand what it's like to budget for a trip on the amount of money we have saved. But when it comes to rental cars, we feel that it is better to rent a vehicle that is simple and efficient and rather spend more of your budget on seeing the sites. If it comes to choosing between renting a flashy car and packing a lunch of hard boils eggs and beans, or renting a more economical vehicle and spending the cash on sampling some local fare and beer, the decision becomes easier to make.
Your Cheaperthancars Team